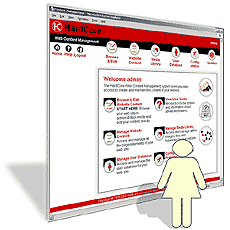 All-inclusive
• FREE Internet address. FREE email forwarding.
• Plenty of web server storage space. 25,000 typical web pages (500 MB).
• Plenty of web server traffic. 250,000 typical web pages (5,000 MB/month).
• Full web content management system (£100 value).

Ready to use
• 150+ graphic design templates and example websites to get started.
• Fully customizable website structure, contents and graphic designs.

Easy to learn and use
• No training and technical skills required.
• No software to install.

Optional Community Add-On
• User registration, personalisation, guestbooks, message boards, discussion forums, weblogs, product reviews and email mailing lists.

Optional E-Commerce Add-On
• Product catalogue, shopping cart, payment processing and order management for unlimited number of products.